TSCM
@MJJRepository
SAFECHUCK DEMURRER: The judge has roundly sided with ESTATE—rejecting some of Safechuck's causes outright w/ no room to amend.
For the rest, judge finds Finaldi's arguments insufficient and has asked him to explain (at hearing) how he could remedy them.
https://mjjr.net/docs/2020-10-15-Tentat ... Ruling.pdf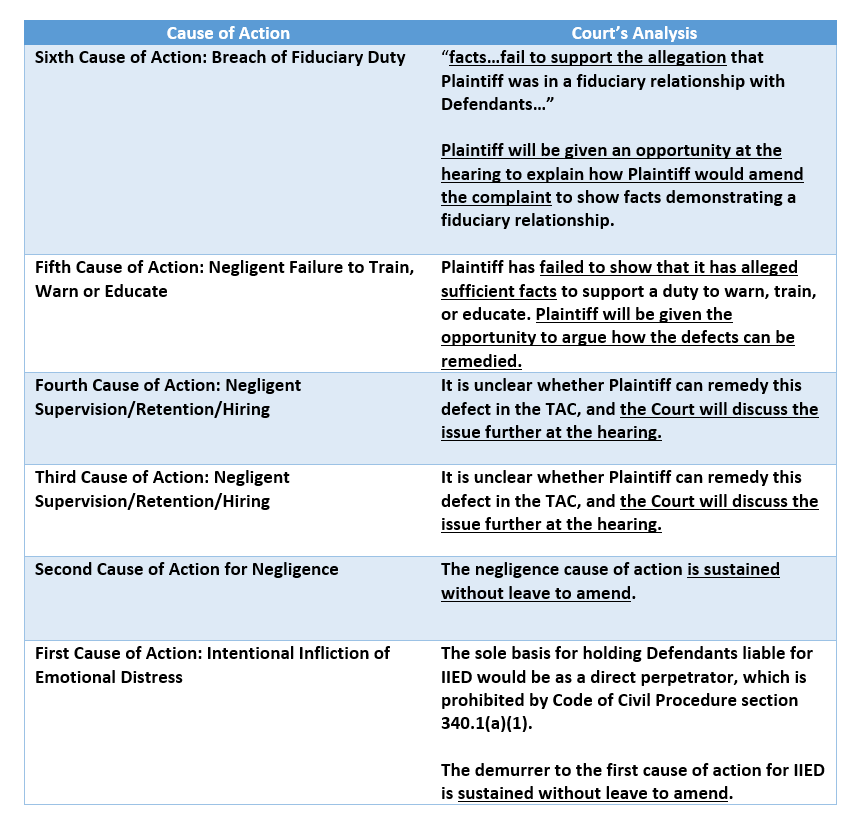 James is already on his 3RD AMENDED COMPLAINT, including TWICE from Finaldi himself (2016 & 2017).
As such, one would expect such an intelligent & reputable lawyer like Finaldi (Face with tears of joy) would've recognized and remedied these issues by the third attempt—if it were actually possible.
The other 4 are hanging by a thread. Judge didn't buy Finaldi's opposition motion in court and is giving him one final chance to argue at the hearing tomorrow. Judge may or may not allow chance to amend them.
TSCM
@MJJRepository
CASE UPDATE: Finaldi sanctioned big time!
In a tentative order (finalized tomorrow), judge has imposed $9,200 SANCTIONS against Finaldi payable to estate within 30 days.
The judge agreed w/ estate—amount is for "time spent directly opposing the motion."
https://mjjr.net/docs/2020-10-16-Tentative-Order.pdf
The judge noted how Finaldi's complaints and arguments were premature and generally insufficient.
Finaldi also "fails to address the reasonableness of the sanctions requested by defense counsel" in his 10 page declaration—he can still try arguing that at tomorrow's hearing.

Once again, the judge points out Finaldi's cited case law in arguments "does not support his contention" against the Court-imposed sanctions.
"The Court concludes that it is appropriate in this matter for sanctions to be awarded against Finaldi based on the plain language..."

One basis for the sanctions was that the judge determined Finaldi "did not act with substantial justification in terminating Leroy's deposition and bringing this motion"
As well as Finaldi's "failure to properly meet and confer prior to filing this motion."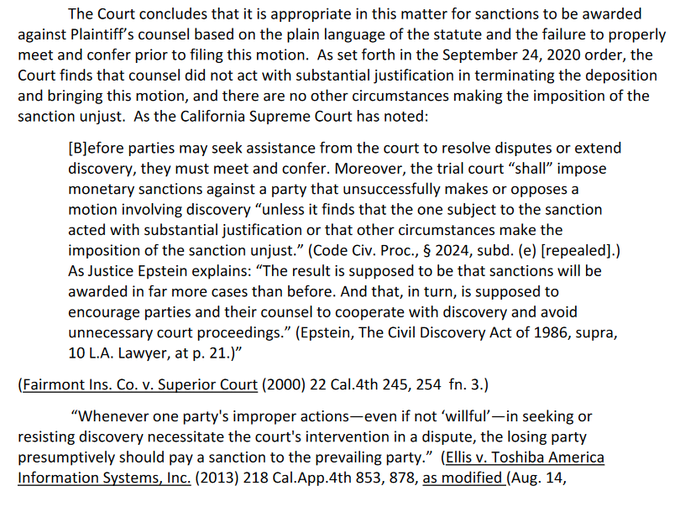 With regard to Finaldi's lackluster attempt to meet and confer, the judge expanded his basis for sanctions even further.
He called Finaldi's attempted explanation "facially insufficient" & points out that Finaldi made "four non-negotiable demands" & "only one day to respond."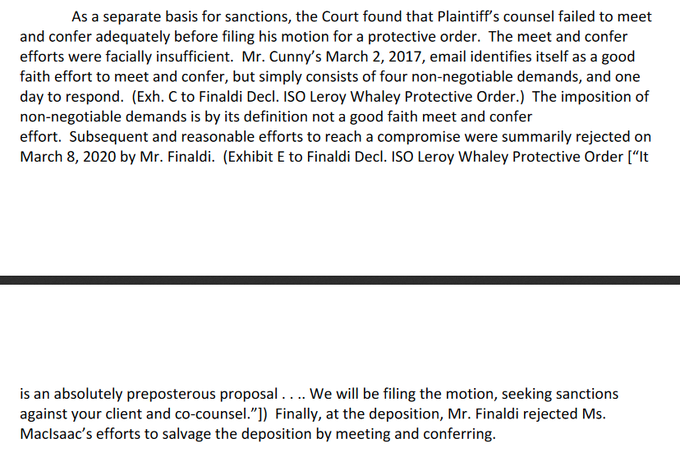 Another fail by Finaldi was he acted as if the alleged lawyer misconduct was part of judge's sanction request.
These are separate issues. He was sanctioned for his unsuccessful motion & failure to confer.
Judge "makes no apology" in describing Finaldi's unprofessional conduct.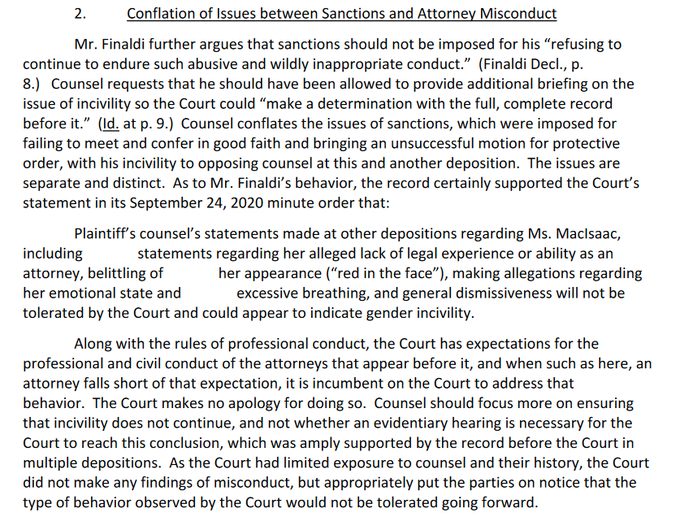 In conclusion (short of any changes at tomorrow's hearing):
"Plantiff does not contest the amount of sanctions requested by Defendants... The Court awards Defendants $9,200 in monetary sanctions against Plantiff's counsel, payable within 30 days."
Sanctions keep piling up!